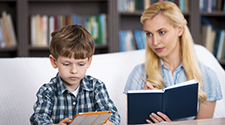 Attention deficit hyperactivity disorder (ADHD) begins in early childhood and can last through the teen years into adulthood. Children with ADHD may have difficulty focusing, listening, sitting still, following instructions, and keeping emotions in check. Increasingly, research is showing that coaching can be a powerful tool in helping children and teens deal with the difficulties they face as a result of ADHD. Coaches can help children and teens with ADHD learn how to manage their time, break down daunting tasks into manageable steps, keep themselves organized, think proactively, use mindfulness techniques, and learn to check their thinking/acting at intervals.
Coaching Children and Teens with ADHD is offered at Pease in Portsmouth and in Manchester and is geared to a broad range of professionals, including special educators, teachers, mental health professionals, guidance and pastoral counselors, healthcare providers and other professionals who work with children and teens with ADHD.
The program consists of three required workshops plus three elective workshops that can be chosen from a number of offerings. The required workshops provide a basic foundation for coaching children and teens and the three electives focus specifically on coaching children and teens with ADHD. You are required to complete the certificate program within two years; however, sufficient topics will be offered in one year for those who wish to complete the program sooner.
3 Required Workshops
Fundamentals of Coaching Children and Teens: Principles, Practice and Power
Practical Techniques and Strategies for Coaching Children and Teens
The Practicum Experience in Coaching Children and Teens
Plus 3 Electives from a Variety of Workshops
Motivation, ADHD, and Learning

Strategies for Coaching Children and Teens with ADHD
ADHD: Neuroscience and Psychopharmacology
plus other topics relating to ADHD
Note: Electives may change from semester to semester. Once you complete the requirements of the certificate program you will receive a Letter of Achievement listing the offerings you completed and acknowledging your participation in these non-credit offerings.
Disclaimer: NH state law does not require licensing to coach children. This certificate is an educational and not a licensing program. Successful completion is based on attendance at the required sessions. Those who successfully complete the program will receive certificates of completion. Successful completion does not meet any licensing or regulatory requirements and does not entail any special status, rights, duties, or privileges.
---
For General Information about Certificate Programs and FAQs
Click Here
Enroll in this Certificate Program Now!
Click Here
---
For More Information
Call (603) 862-1739
or send an email to professional.development@unh.edu