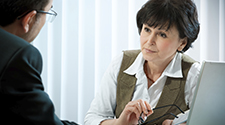 Professional coaches are in great demand, and the need for their services is only growing. Employers are realizing that coaching is a cost-effective way to help their employees increase effectiveness, think more creatively, take on greater responsibility, and grow professionally. The result? A better performing organization and a loyal workforce. Likewise, individuals are turning more frequently to coaches for help in developing and implementing career and life plans.
Participants approach this program from multiple roles:
As consultants, looking to meet their clients' specific coaching needs
As internal coaches, looking for additional training to better serve their company
As managers, looking to implement coaching programs at their own company
As career-seekers/changers, looking for a career that helps people reach their highest professional and/or personal potential
This certificate program is designed exclusively to meet the needs of the evolving coaching profession. It provides a structured, but flexible, program that includes a five-session seminar covering core principles and practices, and four one-day specialization seminars that will equip you with the necessary toolbox of techniques to become a skilled and confident professional coach in a career or life satisfaction capacity. This program's two-tiered approach will enable participants to work with the "whole client" within the context of the "whole system" in which they operate.
You are required to complete the program within two years. For those wishing to complete the program sooner, sufficient topics are offered each year.
Required Courses (3):
The Art of Coaching (a core class comprised of 5 one-day sessions)
Negotiation Skills for Coaches (one-day workshop)
Gender Dynamics in Coaching (one-day workshop)
Plus Electives (choose two):
Several electives are offered each semester that apply to this program, covering topics in:
• Analyzing Workstyles
• Strategic Influencing Skills
• Coaching the Executive
• Negotiation Skills
Note: Seminars marked with a PC at the end of their description apply to this program.
This certificate is educational and not a licensing program. Successful completion is based on attendance at the required sessions. Those who successfully complete the program will receive certificates of completion. Successful completion does not meet any licensing or regulatory requirements and does not entail any special status, rights, duties, or privileges.