PDT-BusAn-04
-
Certificate in Business Analytics
165703219
Validation error
You must correct the following errors to continue:
Course Description
Big Data and Analytics are all the rage. But many businesses don't take advantage of the opportunities for analyzing their data, and miss out on using them to improve their bottom line. In fact, a recent Forrester Consulting study found that data-driven companies are 58% more likely to beat revenue goals than non-data-driven companies.
Join Dr. Julie Alig to learn the methods and skills to make sense of your company's data, so that your company is part of that 58%. Through six (6) in-depth live-online modules over 12 weeks, students will be given real-world business examples to independently investigate, and will include hands-on practice with real data.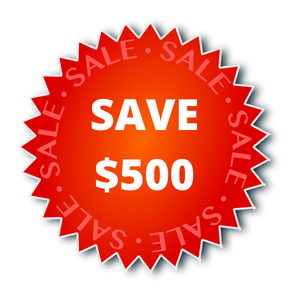 Enroll Today and Save $500!
Originally $2,000
Now Just $1,499 for a Limited Time
---
Modules & Certificate Schedule 2023:
Module 1:

Descriptive Analytics: And So It Begins...

March 22nd & March 29th, 2023

Module 2:

Wrangle Your Date and Show It Who's Boss

April 5th & April 12th, 2023

Module 3:

Visualizing Your Data So You Can "See" What's Going On

April 19th & April 26th, 2023

Module 4:

Predictive Analytics: Tell Me What The Future Has in Store...

Module 5:

Data Storytelling

May 17th & May 24th, 2023

Module 6:

Qualitative Techniques: Making Sense of Words

May 31st & June 7th, 2023
View More About What's Covered in Each Module in the "What You Will Learn" Tab.
---
Completion of all 6 modules will award a Certificate in Business Analytics + A Micro-credential (digital badge) from the University of New Hampshire.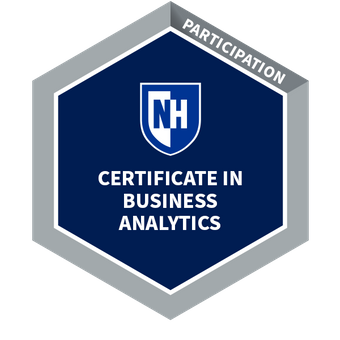 Participants who successfully complete the Certificate in Business Analytics program will automatically receive a digital badge micro-credential that verifies their accomplishment and skill that can be shared on social media, blogs and online portfolios.
Upon completion of the certificate, participants will receive an email with further information on claiming their badge. For more information on digital badges with UNH PD&T, click here.
Questions? Send us a message here.
Applies Towards the Following Certificates
Enroll Now - Select a section to enroll in
Required fields are indicated by .