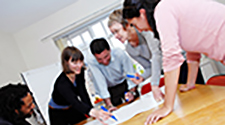 Project management isn't just for project managers, engineers, and IT professionals. As an organization grows, the number of changes being proposed and implemented increases, as well as the number of stakeholders involved in the change. More changes often require additional technology and resources, potentially affecting customers and revenue, and therefore increasing business risk. What once was simple in a smaller organization can quickly have the potential of becoming complex and costly.
This certificate program consists of a series of workshops that are on the leading edge of where project management is headed. Project management is presented as a business process that is an extension of the organization's planning process, not just a series of isolated methods and techniques. You will apply project management principles to specific business situations, as well as learn methods for influencing others in applying sound practices across your organization. The program will provide anyone responsible for, or participating in a business initiative or project, with valuable information and skills that can be implemented immediately to sustain improved business results.
Upon completion of the program, you will have:
Experienced various real-life project management scenarios, including technical projects, individual projects, and cross-functional team projects
Gained valuable information from experienced instructors who practice these techniques on a daily basis
Gleaned unique ideas from professionals from other organizations and industries
You are required to complete the program within two years. For those wishing to complete the program sooner, sufficient topics are offered each year.
Required Workshops (2):
Intro to Basic Project Management (2-day seminar)
*Topics in Advanced Project Management
Electives (choose 3):
Project Cost Management: A Guide to Earned Value Management
Project Management for Managing Business Change
*Structuring Projects For Success: Dealing with Project Uncertainty
(formerly called: Project Risk Management: Dealing with Uncertainty in the Project Environment)
Analyzing Workstyles: Using MBTI to Improve Communication
Teambuilding for Increased Productivity
Managing Construction Projects: Planning, Design, Contracts, Records, Legal Issues, and More
*Note: Basic Project Management is a prerequisite for Advanced Project Management and Project Risk Management, unless you have the instructor's approval.
Note: Seminars marked with a PM at the end of their description apply to this program.
---
For General Information about Certificate Programs and FAQs
Click Here
Enroll in this Certificate Program Now!
Click Here
---
For More Information
Call (603) 862-0725
or send an email to professional.development@unh.edu