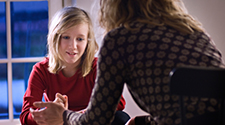 Recently, the practice of coaching children and teens has grown more popular as a way of helping youth to: create action steps for personal and academic goals, deal with challenging issues, and obtain guidance and support as they increase their awareness and knowledge about their own lives and future directions. The program is geared to a broad range of professionals, such as mental health professionals, educators, career, guidance, and pastoral counselors, healthcare providers, camp counselors, and other professionals who work with children and teens.
The coaching Children & Teens program is offered at Pease in Portsmouth and in Manchester and is designed for professionals who wish to obtain knowledge and practical skills in coaching the population of children and teens. You will learn the principles of the coaching process, examine cases and share experiences, participate in discussion and exercises focusing on coaching tools and techniques, and develop strategies to coach children and teens to recognize their unique strengths as well as develop abilities to deal with challenges and issues that face this generation.
The certificate program consists of three required workshops plus three elective workshops that can be chosen from a number of offerings. You are required to complete the Series within two years; however, sufficient topics will be offered in one year for those who wish to complete the program sooner.
3 Required Workshops:
Fundamentals of Coaching Children and Teens: Principles, Practice and Power
Practical Techniques and Strategies for Coaching Children and Teens
The Practicum Experience in Coaching Children and Teens
Electives (choose three):
Several electives are offered each semester that apply to this program. Among the topics you will find seminars in are: Anxiety and Depression in Adolescent Girls; Coaching Children from Dysfunctional Families; Coaching Ourselves and Children and Teens for Creativity; Crises Intervention Theories and Skills; Nervous and Unhappy: Teen Anxiety and Depression; Self-Coaching as a Path for Coaching Children and Teens; and more as needs arise. Note: Electives may change from semester to semester.
Once you complete the requirements of the program you will receive a Letter of Achievement listing the offerings you completed and acknowledging your participation in these non-credit offerings.
Disclaimer: NH state law does not require licensing to coach children. This certificate is an educational and not a licensing program. Successful completion is based on attendance at the required sessions. Those who successfully complete the program will receive certificates of completion. Successful completion does not meet any licensing or regulatory requirements and does not entail any special status, rights, duties, or privileges.
---
For General Information about Certificate Programs and FAQs
Click Here
Enroll in this Certificate Program Now!
Click Here
---
For More Information
Call (603) 862-1739
or send an email to professional.development@unh.edu