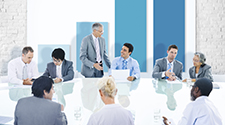 There are many schools of thought concerning leadership. If you believe that within the scope of every job and position, the potential for leadership not only exists, but is demanded, this program is for you. Whether you are a supervisor, manager, team or project leader, or someone who wants to enhance their leadership and management abilities, this certificate program will focus on a variety of skills that enable you to become a better leader and manager. Leadership ability is not bestowed by high rank or title; it is an ability to motivate and influence others, to instill vision and purpose, and to guide others to accomplish the overarching goals of the organization.
This program is offered in Portsmouth and in Manchester. The core program consists of the High Performing Leadership Residential Program or the Applied Leadership Institute, plus three electives chosen from a variety of topics. The program provides an opportunity for you to explore the attributes of leadership and management that will enhance your skills, knowledge, and capabilities as a leader. You are required to complete the program within two years. For those wishing to complete the program sooner, sufficient topics are offered each year.
Required (choose one):
Applied Leadership Institute--a three-day program offered in Portsmouth
High Performing Leadership--a 2.5-day residential program at Loon Mountain
Electives (choose three):
Several electives are offered each semester that apply to this program, in topics including:
The Power of Self-Management in Leadership
Strategic Planning
Emotional Intelligence
Influencing Behavior in the Workplace
Employee Engagement
Appreciative Inquiry
Creating a Positive Work Environment
Creative Innovation
How to Create a Resilient Workforce
Leadership for Every Situation
Managing Organizational Change
Note: Seminars marked with an LM at the end of their description apply to this program.
---
For General Information about Certificate Programs and FAQs
Click Here
Enroll in this Certificate Program Now!
Click Here
---
For More Information
Call (603) 862-0725
or send an email to professional.development@unh.edu