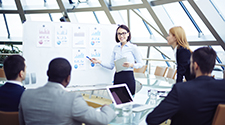 In today's dynamic work environment, effective communication is crucial. The best ideas and strategies are only as good as one's ability to communicate them, whether it is in writing or verbally. Expressing messages in positive and powerful ways is crucial; this certificate program is designed to improve communication skills through a broad spectrum of offerings covering writing, presentation, and interpersonal communication strategies. Participants will leave the program with a strong communication toolbox, and practical knowledge about how to apply these tools in different situations with varying audiences.
The program is offered in Portsmouth and in Manchester, and consists of six workshops chosen from a number of electives. You are required to complete the program within two years. For those wishing to complete the program sooner, sufficient topics are offered each year.
Electives (choose six):
Several electives are offered each semester that apply to this program in the topic areas of: presentation skills; conflict resolution; listening skills; designing brochures and flyers; email, phone, and mail communication; customer service; good grammar; and more.
Note: Seminars marked with a CS at the end of their description apply to this certificate program.
---
For General Information about Certificate Programs and FAQs
Click Here
Enroll in this Certificate Program Now!
Click Here
---
For More Information
Call (603) 862-0725
or send an email to professional.development@unh.edu