PDT-BusPM-21
-
Agile-Scrum Master Certificate
1445097
Course Description
This two-day hands-on class teaches students the Agile Project Management Methodology as well as the underlying Scrum process including sprint planning, daily stand-up meetings, and all the diverse skills required of a Scrum Master. Class work will revolve around an product development project for hands-on experience and all scrum planning steps are employed by the teams culminating in a final class project. Participants will leave this class energized and able to help their organizations move their Agile-Scrum initiatives forward.
The Agile-Scrum Master Certificate is geared towards individuals looking to become certified Scrum Masters and/or participate in the role of effective team members. However, content is applicable to anyone within an organization implementing Agile methods. Upon completion, participants will be prepared to be an effective Scrum Master, stakeholder or team member for any Scrum team or Scrum organization.
Certificate enrollment fee includes the course textbook and certification exam fee.
---
Agile-Scrum Master Certificate Digital Badge:
P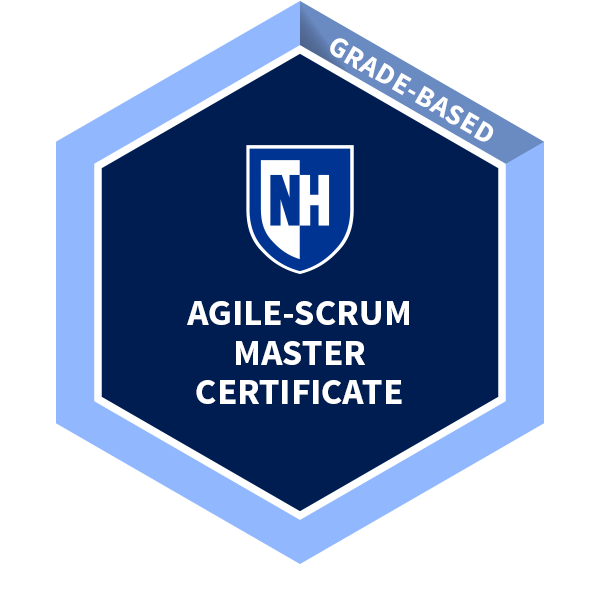 articipants who successfully complete the Agile-Scrum Master Certificate program will automatically receive a digital badge microcredential that verifies their accomplishment and skill that can be shared on social media, blogs and online portfolios.
Upon completion of the Agile-Scrum Master Certificate, participants will receive an email with further information on claiming their badge. For more information on digital badges with UNH PD&T, click here.
---
Hear what participants are saying about the UNH Agile-Scrum Master Certificate Program:
"The instructor, Mark Hall, was the most valuable part of the workshop. His knowledge, professionalism, organization and teaching ability is incredible."
"Mark was relatable, professional, helpful and genuine. The best instructor I've experienced in any of the classes."
"The whole workshop was extremely valuable. I really appreciated the Scrum Process Flow Chart that was handed out in addition to the class manual."
This program is traditionally a face-to-face classroom training program, the 2022 section uses a hybrid format where participants can join in the classroom at Portsmouth or online via Zoom. Upon enrolling in the workshop, participants will be contacted by PD&T staff with additional details how to attend using either format.
No prerequisites necessary.
Agile-Scrum Master Certificate students are eligible for 12 PDUs for Project Management Institute (PMI) certification.
Looking for quick, easy and affordable project management training for your staff? Visit the Agile Project Management Custom Training page.
This program is not associated with the Scrum Alliance (CSM) or Scrum.org (PSM).
Instructors
William George Associates
Applies Towards the Following Certificates
Enroll Now - Select a section to enroll in
Required fields are indicated by .